Introducing… Audio Ace's Signature Series
Hand-crafted subwoofers built with you in mind.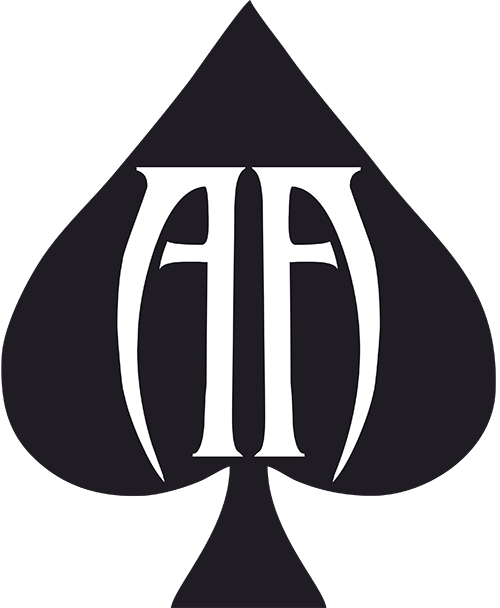 Audio Ace is proud to announce our very own line of subwoofers. Specially designed, engineered, and manufactured by our experts, we call it the Signature Series—because it's got our trademark quality written all over it.
As experienced car audio specialists, we know subwoofers:  what kind of designs generate the best sound quality, which materials provide the most durable performance, and which high-power features our customers love the most.
In fact, some might say we over-built our Signature Series subwoofers. Maybe we pushed the limits and went a little extra with our design, but that's just because we're obsessed with giving you the best audio experience possible!
Our high-functioning, ultra-powerful subwoofers will give you bold bass, crazy-impressive sound control, and dynamic performance every time you press play. Audio Ace's Signature Series are the subwoofers you've been waiting for.
See below for pricing notes and specs!
Joker Series 12″ Subwoofer
This is a reasonably priced, competition-level subwoofer that will please champions and rookies alike.

Price:  $279
600 – 1,000 Watts RMS
Revc: 7.000 Ohm
WRMS: 600-1000
Fo: 30.539 Hz
OD: 12.5"
Sd: 51.071 m
Mount depth: 6.625"
M?md: 220.000 q
MountDia: 11"
BL: 26.193
Qms: 2.536
Qes: 0.419
Qts: 0.360
No: 0.309
SPLo: 86.9 dB
Vas: 46.999 Ltr
Cms: 126.897 m
Krm: 28.689m Ohm
Erm: 0.787
Mms: 214.039 g
Mmd: 207.402 mkg
Kxm: 199.94 mH
Exm: 0.598
Xmax: 25 mm
---
STR-8 Series 8″ Subwoofer
Engineered for universal enjoyment, these subwoofers come with a modest price tag that meets everyone's budget without compromising on heart-thumping sound quality.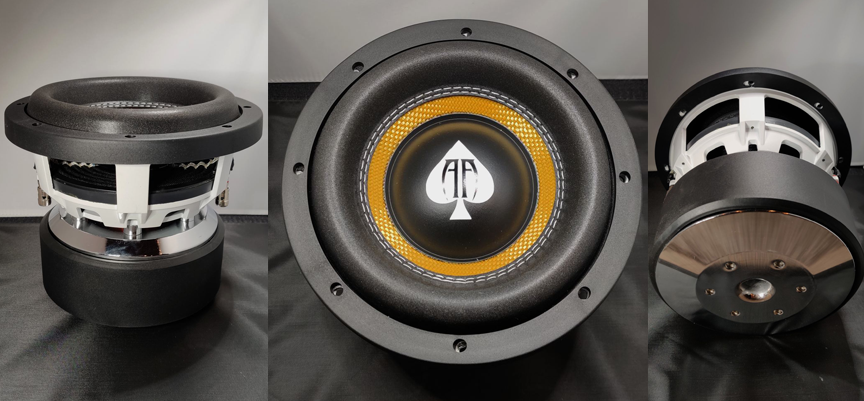 Price:  $249 
500 Watts RMS
Revc: 8.000 Ohm
WRMS: 500
Fo: 37.416Hz
OD: 8.75
Sd: 20.106m
Mount depth: 6.5″
M?md: 150.000 g
MountDia: 7.25″
BL: 25.933
Qms: 2.932
Qes: 0.426
Qts: 0.372
No: 0.081
SPLo: 81.1dB
Vas: 6.816Ltr
Cms: 118.745m
Krm: 58.187m Ohm
Erm: 0.730
Mms: 152.371g
Mmd: 150.732mKg
Kxm: 408.641mH
Exm: 0.527
Xmax: 17 mm
---
Bluff Series 12″ Subwoofer
This is an entry-level subwoofer, but the exceptional performance and sound quality will impress even the most avid audio junkie.

Price:  $149
200 – 400 Watts RMS
Revc: 7.600 Ohm
WRMS: 200-400
Fo: 39.623Hz
OD: 12.75"
Sd: 51.071 m
Mount depth: 5.25"
M?md: 170.000 q
MountDia: 11"
BL: 18.501
Qms: 3.460
Qes: 0.857
Qts: 0.687
No: 0.271
SPLo: 86.3dB
Vas: 38.541Ltr
Cms: 104.060m
Krm: 10.427m Ohm
Erm: 0.839
Mms: 155.043g
Mmd: 148.407mkg
Kxm: 160.433mH
Exm: 0.562
Xmax: 20 mm
Contact us for information on bulk ordering